First of all, let's look at the structure of milling machine table. The vertical feeding and rapid movement of the worktable of the vertical lifting table milling machine are usually driven by screw and nut pairs.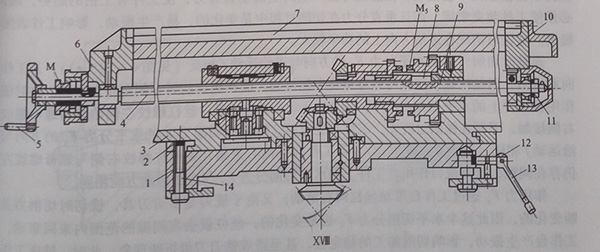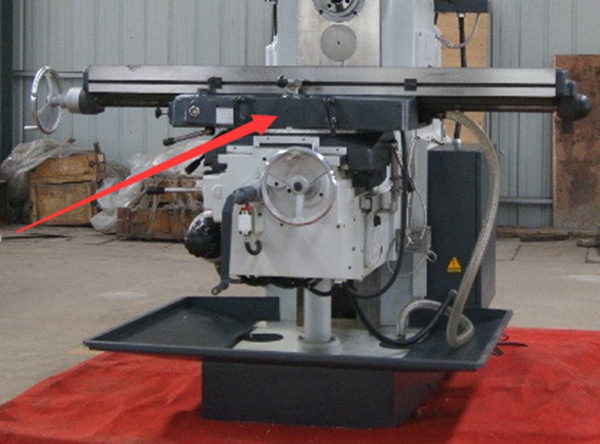 The table structure of the X6132 milling machine is shown in figure.It is composed of the worktable 7,the bed saddle 1 and the rotating disk 3.
The bed saddle 1 uses its rectangular guide to engage the rails of the lift to move the table horizontally on the platform rail.When the table is not moved horizontally,the saddle can be clamped to the lifting table by the action of the eccentric shaft 12 by the handle 13.The table 7 can be moved longitudinally along the dovetail rail above the rotating disk 3.The milling machine table,together with the turntable,can be rotated about -45°to 45°about the axis ⅩⅧ of the bevel gear and fastened to the saddle using bolts 14 and two arc press plates 2.
The longitudinal feed screw 4 is supported on the sliding bearing at the left front bracket 6 of the table and the thrust ball bearing and the tapered roller bearing at the right rear rear bracket 10 of the table to bear the radial force and the axial force in both directions.The clearance of the bearing is adjusted by nut 11.The handwheel 5 is sleeved on the lead screw 4,and when the handwheel 5 is pushed inward and the compression spring is applied to the end face clutch M,the manual milling machine table can be moved longitudinally.On the rotary disc 3,the clutch M5 is splined with the spline sleeve 9 and the spline sleeve 9 is connected to the longitudinal feed screw 4 having the keyway by the slide key 8,so that the end face tooth clutch M5 is turned on to the left,the movement from the shaft XVIII is driven by the bevel gear pair,M5 and the slider 8 to drive the longitudinal feed screw 4 to rotate.Since the double nut is fixedly mounted on the left end of the turntable,it can neither rotate nor move axially.Therefore,when the longitudinal feed screw 4 is subjected to the rotary movement,it is moved axially at the same time,so that the table 7 is moved in the longitudinal direction or moved rapidly.
Through the above description,I believe you have a clearer understanding of the structure of the milling machine table.