As the milling machine dividing disc with holes limited, some of the division number because there is no suitable hole ring, and can not be simple dividing method, such as 73, 83, 113 and so on. At this point the differential dividing method can be used.
Using differential dividing, should loosen locking screws, the dividing plate can be driven bevel gear rotary, and the dividing spindle taper hole arranged in the back-end drive shaft of the milling machine, the change gear of a, b, c, d and Axis II connection (Figure).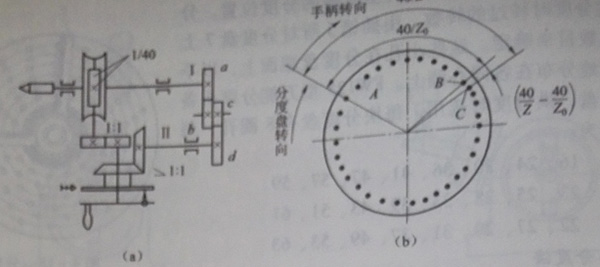 Differential working principle is as follows: Set the workpiece requirements for the degree of Z, and Z> 40, then the indexing spindle should be transferred to each 1 / Z turn. At this time, the handle should still turn 40 / Z turn, that is, the pin should be transferred from point A to point C. With the C point positioning, but the dividing plate at the C there is no corresponding hole for the identification of the location, and thus can not be used to achieve a small degree of sub-indexing. In order to use the milling machine on the dial circle, select Z0 to calculate the number of revolutions of the handle, the handle turns 40 / Z0 turn, that is, the switch from A to B, with B point positioning. At this time if the dividing disc is fixed, the handle turns 40 / Z0 instead of the required 40 / Z turn, there is a difference between the two. To compensate for this difference, turn the hole at point B to point C for pin positioning. To this end, the gears can be used to connect the milling machine tool to the dividing head spindle and the dividing plate. During the dividing process, when the latch is moved from point A to point C, the dividing plate is rotated by a number equal to the difference making the hole is just aligned with the latch.
Motion balance:

In order to facilitate the use of replacement gear Z0 should be selected close to Z (can be greater than or less than Z) and 40 with a common factor value.
When Z0> Z is selected, the direction of rotation of the handle and the dial should be the same, and the gear ratio is positive.
When Z0

FW125 type mill machine dividing head with a module with a gear number of 1.75mm or less:24(two),28,32,40,44,48,56,64,72,80,84,96,100, A total of 15.