A stepper motor is a motor that converts a pulse signal into an angular displacement and is often used in the feed drive of an economical milling machine. As the stepper motor drive without speed and position detection and feedback, so the speed and position control accuracy by the stepper motor and feed the mechanical chain to ensure the accuracy.
1.Composition structure
Stepper motor stator consists of core and winding. The stator core is made of silicon steel sheet and is made into a pole shoe. Pole pieces of uniform surface of the tooth groove, pole with a winding coil, a pair of pole pieces to form a phase winding. The rotor has a reactive type and a mixed type. The reactive rotor core is made of silicon steel sheet, and the circumferential surface is arranged in the tooth groove. The hybrid rotor is equipped with permanent magnet in the rotor core. Stator per phase winding in accordance with the phase sequence after the pulse power generated stator magnetic field, the rotor under the stator magnetic field rotation. The picture shows the five-phase hybrid stepping motor structure diagram.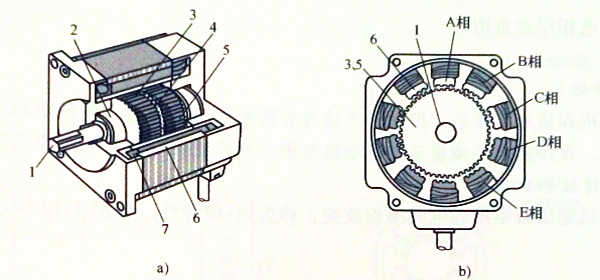 2.Control
(1)Step angle
Stepping motor each phase of the winding once every step, stepper motor rotor that is turned through an angle, the angle is called the step angle. The magnitude of the step angle determines the amount of linear displacement that the ball screw drives the milling machine table. For example, a milling machine stepper motor and ball screw through the coupling directly connected to the stepper motor step angle of 0.36°, screw pitch of 12mm, then each step angle corresponding to the table of the linear displacement of (12mm/360°) x 0.36°= 0.012mm. Therefore, the position control can be realized by controlling the number of energizing pulses. Stepping motor running process, the number of steps the rotor does not follow the pulse signal is called out of step, out of step will affect the position control accuracy.
(2)Speed and steering control
The speed and direction of the milling machine stepper motor are controlled by the frequency and phase sequence of the energized pulse power. Changing the frequency of the pulse power can change the speed, but the speed range is not wide, the maximum input frequency is generally not greater than 25kHz; change the phase sequence of the pulse power supply change the turn. There are two types of single-shot and double-shot, double-step angle is half of the single shot. The picture shows the three phase stepper motor power phase sequence diagram.