The function of the milling machine step driver is to process and enlarge the input control pulse signal, and output the pulse power to each phase winding of the stepping motor, as shown. Step driver involves pulse distribution and power amplification.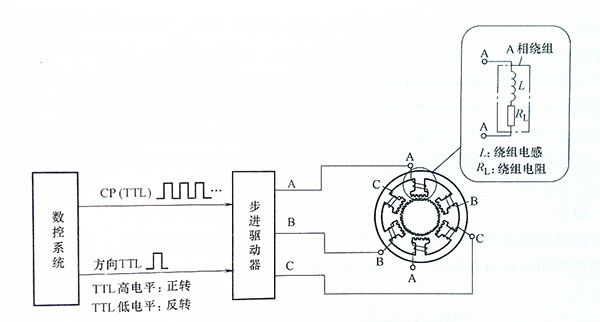 1.Pulse distribution
Pulse distribution is used to control the running mode of the stepper motor, and its function is to send a series of command pulse signals issued by the numerical control system according to the power phase sequence. The assigned pulse signal is used as the control signal of each phase winding. Taking the milling machine three-phase stepper motor as an example, the number of pulse signals CP controls the angle of the stepping motor rotation, and the stepping motor turns a step angle every time a CP pulse is input. The frequency of the pulse signal CP controls the rotational speed of the stepping motor. The direction of the signal is TTL level, when the TTL is high, the stepper motor is running, and vice versa. The pulse distributor (ring distribution integrated circuit) assigns the CP pulse signals to the stepping motors A, B, and C windings in sequence according to the direction signals.
2.Power amplification
Each phase winding of the milling machine stepper motor has a power switch, the distribution of the pulse power amplification, in order to obtain the drive current of each phase winding. Single-supply power amplifier at high frequencies due to the winding current to reach the specified value, resulting in stepping motor output torque is insufficient. Low-frequency winding current easily intermittent, resulting in stepper motor speed instability. In order to overcome the shortcomings of single-supply power amplification, stepper drive there are high and low voltage power supply drive, constant current chopper drive and subdivision drive, these drive devices can improve the smooth operation of the milling machine stepper motor to eliminate oscillation.