AC servo driver is a common type of milling machine servo drivers. The servo motor needs to cooperate with the servo driver to complete the corresponding function.
1.AC servo motor vector control
AC servo motor frequency control is a self-control variable frequency synchronous motor system. The frequency and phase of the output current (voltage) of the frequency conversion device (servo drive) are controlled by the position of the rotor pole, which is a closed-loop control mode for stator frequency and phase of the stator winding. In the vector control process, the rotor magnetic pole position of the rotor pole axis of the U-phase stator winding axis angle θ, varies with the rotation of the rotor. The angle can be obtained by direct detection of the encoder or rotary transformer connected by the milling machine servo motor, as shown.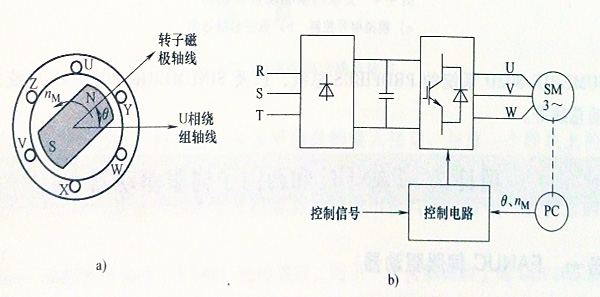 The AC servo drive is essentially a frequency converter for driving an AC servo motor. The AC servo drive controls the AC servo motor by the vector control strategy for the AC servo motor, as well as the SPWM and the inverter, as shown in the figure. Milling machine AC servo motor with vector control can get very good static and dynamic characteristics.
2. Control signal
AC servo drive control signals are analog and digital. The encoder in the servo motor feeds the speed detection signal to the milling machine servo drive on the one hand, carries on the speed control, and on the other hand, sends the position detection signal to the numerical control system through the servo drive to carry on the position control. Simulation control, the wiring between the devices, the signal susceptible to interference, affecting the stability of the servo drive. With the development of digital bus control technology, the current milling machine CNC system and servo drive between the use of digital bus communication.