T-shaped groove is also a common special groove. Today we talk about how to use the milling machine to process the T-groove.
1.1.Application and main technical requirements of T-shaped groove
T-groove is used for mill machine table, milling machine accessories, matching jig positioning and fixing.
The T-groove is composed of a straight groove and a bottom slot. According to the requirements, sub reference slot and fixed groove. The dimension accuracy and shape and position accuracy of the reference groove are higher than that of the fixed groove. Its shape, size and so on have been standardized, and the main technical requirements of T groove are: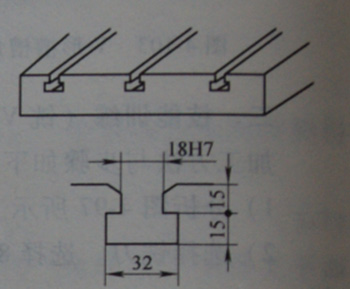 1) straight groove width accuracy, reference trough IT8, fixed groove IT12 level.
2) the straight groove of the reference groove is two sides parallel or perpendicular to the reference plane of the workpiece.
3) the two sides of the bottom trough are symmetrical with the central plane of the straight groove.3) Both sides of the bottom groove are symmetrical with the center plane of the straight groove.
2. T-groove milling method and procedure
The T-groove is machined as shown. T-groove milling, generally first with a three-edge cutter or end mill milling straight groove, slot at the end of about 1mm margin, and then in the vertical milling machine with T-groove milling cutter to the bottom of the slot to the depth, and finally Use the angle milling cutter to chamfer the notch; the T-groove cutter should be selected according to the width of the straight groove. The diameter of the steel cutter tool is the basic size of the T-groove (straight groove width); T-shaped groove at both ends, the hole should be drilled at one end of the groove before milling. The diameter of the hole should be larger than that of the T-groove the diameter and depth of the cutting part of the milling cutter shall be greater than the depth of the T-groove bottom groove. After milling the straight groove, punch the bottom slot with the T-slot milling cutter.
3. T-groove detection method
T-groove can be used vernier caliper, lever dial indicator detection.
The above is about how to use the milling machine processing T-shaped groove of the relevant content. Welcome to continue to pay attention to the update of the DXMC milling machine manufacturer in China.