The machine vice known as flat nose clamp is an accessory used to clamp the workpiece on the milling machine. Milling the rectangular box of the general rectangular parallelepiped, the step surface, the slope and the shaft of the workpiece, can be clamped with a flattened clamp.
1. The structure of a flat nose clamp
Commonly used flat nose clamps are both rotary and non-rotary. The clamp body of the rotary flattened clamps can be rotated at any angle on the base. Non-rotary flat-nose clamp structure and rotary flat-nose clamp is basically the same, but the base does not have a turntable, clamp body fixed. Rotary flat nose clamps easy to use, adaptable, but because of a layer of turntable structure, height increases, the relative reduction in rigidity. Therefore, in the milling plane, milling vertical and parallel plane, the general use of non-rotary flat clamp.
2. Installation and correction of machine vice
(1) The installation of flat nose clamp. When installing the machine vice, wipe the bottom of the clamp base and the work surface. The flat nose clamp is installed in the center of the length of the center of the table, the center of the width direction, to facilitate the operation. In rough and semi-finished milling, make the milling force point to the fixed jaws, as shown in the figure.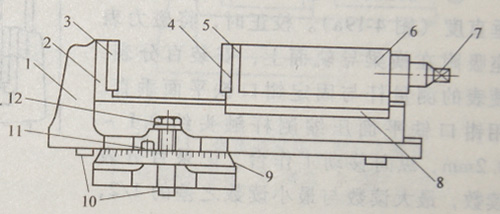 When machining the general workpiece, the flat nose clamp can be installed with the positioning key. When installing, place the positioning key on the base of the flat clamp into the center T-slot of the table and push the clamps with both hands so that the same side of the two positioning keys rest on the same side of the central T-slot, and then secure the clamp. Use the zero mark on the clamp to match the engraved line on the base, turn the clamp body so that the fixed jaws are perpendicular or parallel to the milling machine spindle axis, or you can adjust the angle as needed.
(2) Correction of flat jaws. Correct the jaws with a dial indicator to ensure vertical or parallelism with the spindle axis of the mill machine as shown.

①Correct the fixed jaw and miller spindle axis perpendicularity. Calibration, the magnetic table seat adsorption on the beam guide surface, install the dial indicator, so that the table measuring rod and fixed jaw iron plane perpendicular.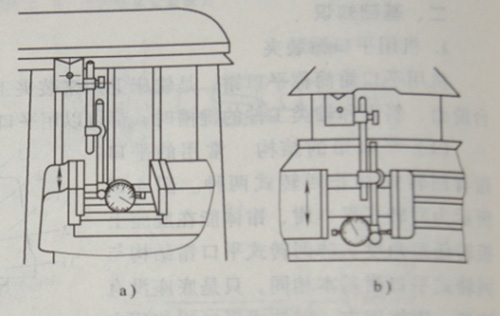 With a clamp iron flat compression rod contacts about 0.1~0.2mm, vertical movement of the table, record the dial indicator. The difference between the maximum reading and the minimum reading is the value that the fixed jaws need to rotate in the small direction. Rotating fixed jaws, and re-examination, re-qualified, fastened clamp body.
②Correct fixed jaw and milling machine spindle axis parallelism. When correcting the jaws parallel to the milling machine spindle axis. The magnetic table can be sucked on the bed vertical guide surface, horizontal movement of the table, the correction method Ibid.