The milling machine servo motor which drives the vertical ball screw is equipped with an electromagnetic brake, and the electromagnetic brake is an integral part of the servo motor. The structure is shown in figure.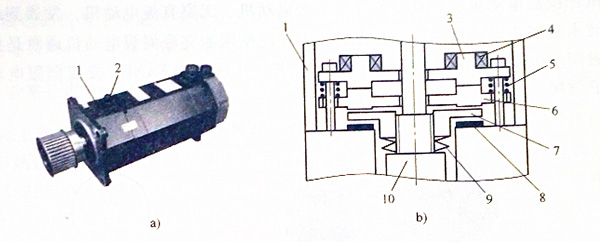 When the ball screw is mounted vertically (such as the vertical axis of the milling machine or the Z axis of the machining center), the ball screw has no self-locking function. When the machine is powered off and there is no locking device, spindle box or turret will fall on their own. In order to prevent this phenomenon, the electromagnetic brake is mounted on the servo motor, and the motor rotor is locked by the electromagnetic brake when the servo motor is de-energized so that the screw can not be rotated.
In the electromagnetic brake, the brake disc is connected with the rotor shaft by splines, rotates with the rotor, and moves axially. When the servo motor is running normally, the brake coil is energized (+24V). The armature is overcome by the force of the electromagnetic force against the brake spring. The brake disc is released under the action of the return spring. The servo motor is in release state. When brake, the brake coil power loss, the armature in the brake spring under the action of rapid axial movement and push the brake disc, so that the brake disc pressed on the chassis, friction torque generated by the friction plate to lock the rotor shaft, so as to achieve the purpose of braking.
The above is about the milling machine electromagnetic brake introduction, if there are problems, welcome to discuss.