milling machine absolute photoelectric encoder structure and incremental encoder is similar to the code, LED, photosensitive components and signal detection circuit and so on. The detection signal is binary coded, and each code corresponds to an angular position. The picture shows the absolute measurement and binary coding.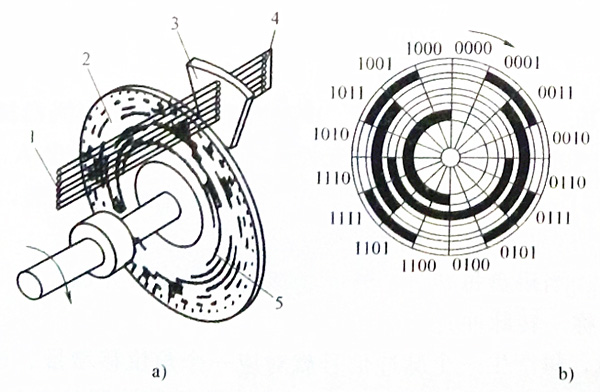 The milling machine has a code track (also known as track). As shown in the code on the code from the inside to the outside there are 8 yards, the code on the road by the binary law engraved with light or opaque stripes. The side of the disc is the light source and the other side is a group of photosensitive elements. When "0" to a certain angle, and the corresponding channel of the photosensitive element by the light output is "1" level, from the light output is "0" level, which constitutes a set of binary code. The number of bits in the binary code is the number of code channels, and each set of binary codes corresponds to a single angle, as shown.
Binary code has two types of natural binary code and Gray code. Natural binary code, the measured angle changes every time, binary coding may occur in a number of "0" and "1" changes, prone to error code, low reliability. Gray code, the measured angle changes every time, only one binary code "0" and "1" changes, Gray code is conducive to reducing the wrong code, improve reliability.
Because the binary code is distributed within 360°, when the code from 0°to 360°, the code back to the initial value, can not tell the number of turns of the code wheel, so when the angular displacement measurement, to using multi-turn absolute encoder.
The position data of the absolute encoder is stored in the memory, held by an external lithium battery, and the data is not lost after power failure. So the configuration of the absolute encoder CNC milling machine once the reference point after the completion of the set, after each boot power after the need to return to the reference point of the operation.
The above is a simple introduction to the milling machine absolute photoelectric encoder, hoping to help you.