In the process of processing, milling machine CNC system to real-time detection of the current table and other moving parts of the actual location and speed, and with the command position and speed to compare, to achieve position control and speed control to meet the accuracy of position and speed stability control requirement. In the same way, CNC system also carries on the speed detection and the position detection to the spindle, in order to carry on the speed and the position control to the spindle. Modern CNC milling machine commonly used position and speed detection device, such as encoder and grating.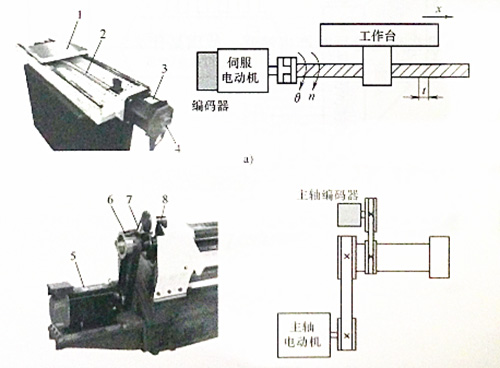 The encoder is used for angular displacement measurement and speed measurement, either in the servo motor and spindle motor, or independently. The picture shows the application of the encoder in the numerical control machine tool.
The servo motor is connected to the ball screw through the coupling. Servo motor rotation, the servo motor built-in encoder real-time detection of the servo motor rotor angular displacement and speed, indirect measurement of linear displacement. If the screw pitch is t, the CNC system obtains the linear displacement x of the milling machine table according to the angular displacement θ detected by the encoder.
The spindle encoder and spindle are connected with a 1: 1 timing belt for real-time detection of spindle speed and angular displacement. In addition, the encoder installed in the milling machine spindle motor can directly measure the motor speed and rotor angle.